Interview to Stela Angova, from UNWE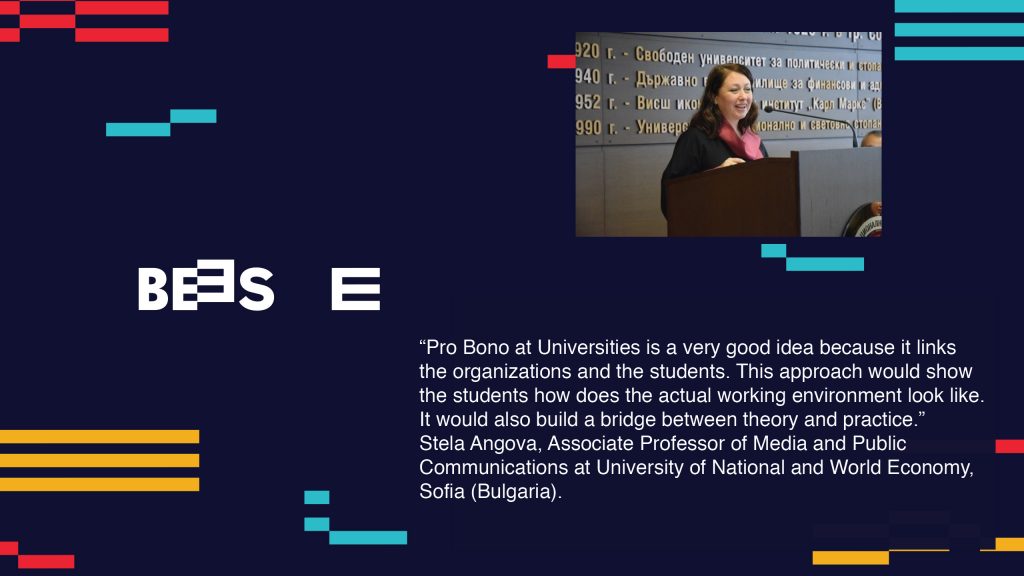 Continuing with the interviews to professors and administrative staff from National University and World Economy from Bulgaria, this week we will share the interview with Stela Angova, associate professor of Media and Public Communications department. She teaches Online Media, Advertisement Communication and Public Relations on the internet.

Denitsa Gorchalova: How do you perceive the idea of pro bono activities to become part of the curriculum at UNWE? What are the pros and cons?

Stela Angova: On the positive side, the idea is very good because it links the organizations and the students. This approach would show the students how does the actual working environment look like. It would also build a bridge between theory and practice.
On the negative side, there is a danger that the public opinion would perceive it as a proof that the university does not teach the students contemporary knowledge. Let's not forget that the university is not a training firm for the business organizations, but something wider and deeper.
Denitsa Gorchalova: Would you make pro bono activities a part of the final grade of the students and why?

Stela Angova: It is possible for all my courses. I have done something similar in my masters courses by inviting people from the business world. They were assigning the students real-life cases and commented the proposed decisions. For example in the course of "Online Media" media managers can give assignments for creating new media, managing media (or media group), longread topics, organizing of planning meetings, etc.
Denitsa Gorchalova: Would you make pro bono activities a part of the final grade of the students and why?

Stela Angova: I would because pro bono is relevant to the practical assignments I give and grade. In that case I would invite the mentor to participate in the grading process.

Denitsa Gorchalova: What are the problematic areas you envision if pro bono would become a part of the teaching?

Stela Angova: In the offline teaching – the interests and presence of the students. In the online teaching – their interests and active participation.

Denitsa Gorchalova: Give your free comments on "pro bono at the university", please!

Stela Angova: This idea is new to me so I cannot be very specific. Our department organizes a similar activity called "Media Classes". They cover different topics in the areas of media, journalism and media economy. The lectors are from media organizations and they give very specific assignments. The participating students are between 10 and 12 – selected among the top and excellent students.