Impactful co-creation: 
The example of Corvinus Science Shop
Article written by András Martoni (Corvinus Science Shop) about how they promote the civic engagement of their students.
Corvinus Science Shop (CSS) promotes collaboration between science and society. Community partners bring their questions to the university where – through our bridging work – they partner up with lecturers, courses and students to address those questions and seek answers in collaboration. Civil and academic knowledges are given equal weight in this process – we build on the diversity of knowledges as the potential for mutual learning and co-creation.
Corvinus Science Shop offers
to community partners:
support for formulating project/research questions
answers to the addressed questions
access to university lecturers and other community partners
to lecturers:
relevant, accurate study cases to embed in curricula
contacts to and relationship with community partners
process support for course projects
insight into new areas, fresh inspiration for education and research
opportunity to make a difference and create genuine social impact
to students:
real-life, relevant cases practical examples, project-based learning
opportunity to make a difference and create genuine social impact
a taste of responsibility to work with high stake
transfer of acquired business knowledge and skills to new areas: to contribute to the solution of social and ecological problems
Science Shop activities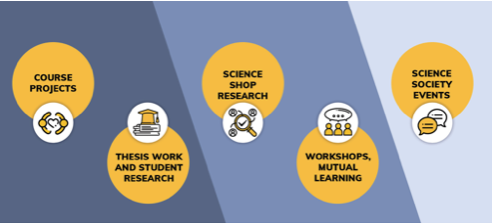 Course projects
The vast majority of community partners' questions received by CSS find their way into so called course project. These are assignments for student teams that are embedded in a university course: students explore the question by applying the methods taught on the course, with the supervision of the lecturer and in collaboration with the community partner. Students typically work in teams of 3 to 5, using secondary (e.g. literature review) and primary (e.g. focus group, interview, questionnaire) research methodologies, relying on their general knowledge of business administration and the specific topic of the course.
If a project succeeds in aligning educational goals and the needs of the community partner, the international practice of community engaged teaching and learning comes to life. It is this aspect that we currently consider to be one of Corvinus Science Shop's key priorities.
Thesis work and student research
Questions of communities can be formulated into thesis work or other, smaller scale student research as well. This is most often an individual assignment and exceeds the time span of course projects, usually lasting around three semesters.
Community partners not only provide great thesis questions but also offer significant advantages: while companies are secretive about their data and have little consideration to implement student's findings, community partners on the contrary are happy to share their knowledge/data and ready to implement the student's suggestions laid out in the thesis work. CSS operates an online thesis question database, organises thesis fairs for Bachelor and Masters programmes and provides a framework how to formulate the research question and the research process with the community partner.
Science Shop Research
One of CSS's goals is to do research with community partners. We have been piloting participatory research and planning a study for community partners at Corvinus' new campus in Székesfehérvár. CSS "self" research is, however, already ongoing: members of the team employ scientific research methodologies to study science shop dynamics and operations and to share their findings – both locally and internationally – through academic publications and conferences. Research findings also serve to improve Science Shop processes and stakeholder interactions and are channelled into social impact measurement of CSS and its projects.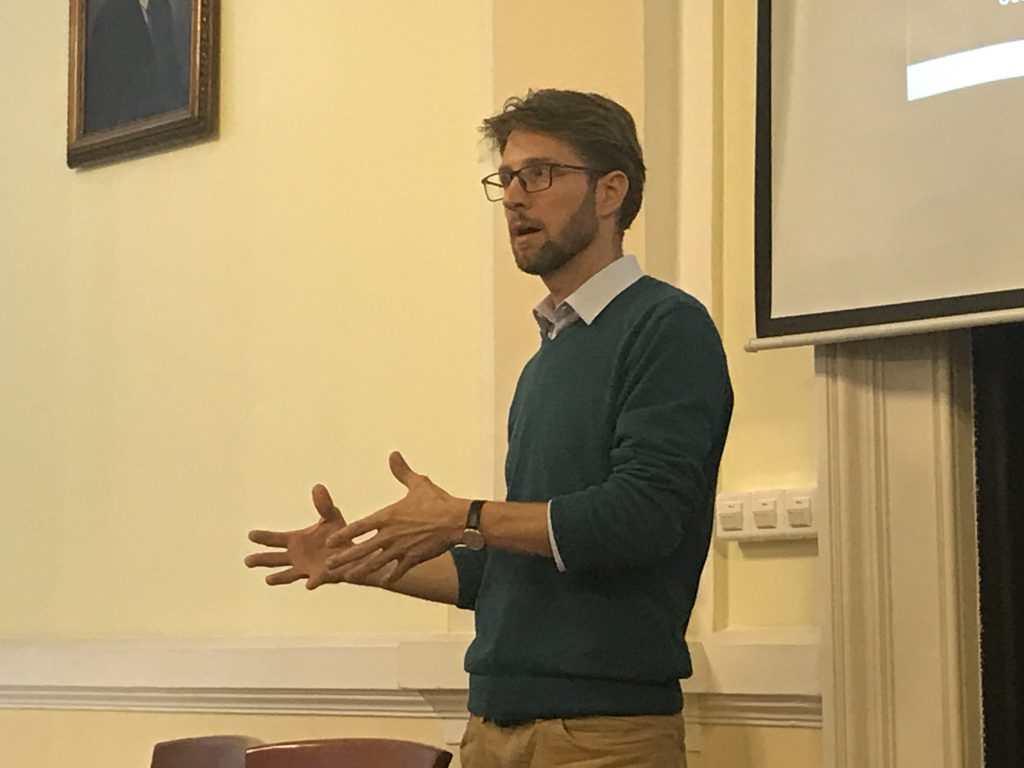 Mutual learning
We designed the science shop, launched it, and now new questions and considerations have been raised. How can we work together well with and for the partners of the science shop? How can we ensure depth in the course projects? How can we provide relevant answers to the community partners' questions – i.e. useful responses that partners are ready and able to implement? How can the science shop work become a collaborative engagement in reality: impactful co-creation that builds on the knowledge of the community partner, the student and the lecturer alike? We seek answers to these questions constantly being at the back of our minds by
regularly asking for the opinion of our stakeholders: community partners, students and lecturers in various ways, and
continuous developmental work.
The latter – via our workshops for mutual learning – is a special and inherent feature of Corvinus Science Shop. The events we organise are for promoting the meeting of the stakeholders, to let them learn about each other, become aware of the variety of characteristics, needs, values, etc. a science shop partnership may bring into the light. We create a "semi-structured" situation and field where either all three groups of partners work jointly, or one or two of the partner groups exchange their experiences. The philosophy and practice of mutual learning and co-creation of the science shop is thus not limited to course projects, theses, etc. Instead, we aim to introduce it into the very operation of the science shop: to create a space where we, stakeholders, can work collaboratively.
Our story
CSS's immediate precedent was an exciting international project, EnRRICH (Enhancing Responsible Research and Innovation through Curricula in Higher Education), in which, in cooperation with renowned science shops, we looked at our university courses through the eyes of the society. CSS's other forerunner was the Social Entrepreneurship and Social Economy Master course, where, since 2006, we have been organizing course projects with social entrepreneurs building on the philosophy of service-learning. Among others, two of our founders studied at summer schools led by Henk Mulder, a founding father of the Living Knowledge Network from the University of Groningen's Beta Science Shop. In spring 2017, our activities became institutionalized: the CBS Faculty Council and the University Senate approved the establishment of the Science Shop. Already in that semester, we worked on four pilot projects and started our workshops.