Fifth BEESE Pro Bono Project Meeting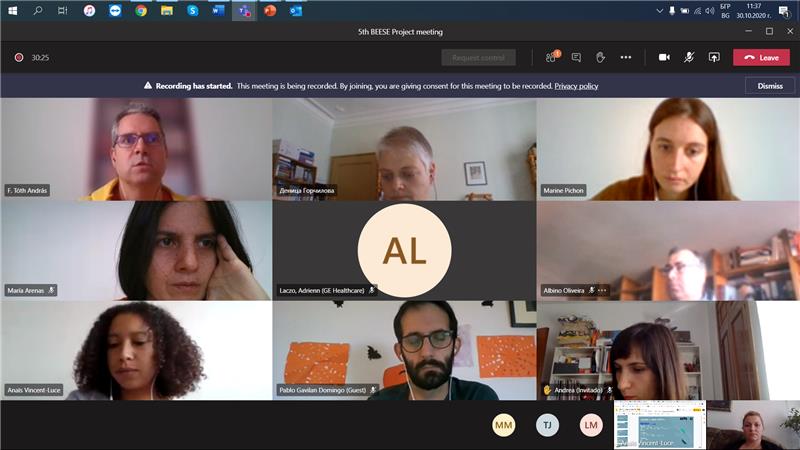 On October 29th- 30th, 2020, the fifth transnational meeting within the framework of Erasmus+ BEESE project, was held online organised by ÖKA (Hungary). It was a bit sad not to be able to travel to Budapest and to see each other again, but on the other hand we were happy that we could invest two whole days for our work even though in a online way.
During these days we could advance in the work done so far in the different Intellectual Outputs. The UAM presented their work as coordinators of the first IO (Research on students motivations to do pro bono). Also, Porto University did the same with the second IO, as coordinators. Very soon we will be able to share some of the deliverables of these two IO in our website.
Regarding the third IO, Pro Bono Lab as coordinators, where in charge of updating how the tasks have been advancing during the latest moths and luckily by the end of this year our Guide Book will be finished and ready for the layout very soon.
We also invest some time to discuss about the Training Activity and Dissemination events that will take place in 2021. The Training Activity will be held in Paris if the current pandemic situation allows it, otherwise it will be online. In both cases, this activity aims to train our colleagues within our consortium in order to guarantee the sustainability of the BEESE Pro Bono project once finished. In this sense, the trainers will be some of the team of Pro Bono Lab and Junior Consulting (from Paris) but also some of the team of Work for Social and UAM (from Madrid).
Regarding the dissemination events, they aim to promote our publications in order to make them well known in the European university ecosystem. They will be organised locally in coordination with each local partners (5 countries, 5 events) and we will make an open call so everyone interested in our project can come along.
Finally, we also discussed about our internal evaluation and how to improve some delays in our work due to the COVID-19 crisis and our communication flow.
We missed our final dinner that we do in each meeting, but we will do double next time we will be able to meet physically again 🙂