Campus Pro Bono at UNWE, Bulgaria
This post is part of our series highlighting how professors and university staff think about pro bono. Denitsa Gorchilova, professor of University of National and World Economy (our partner from Bulgaria), interviewed some professors and university staff about their thoughts about pro bono in the university framework. 

In this post you can read the interview to Svetla Tsankova, an associate professor of Media and Public Communications department. She teaches Media Theory, Media Genres and Press-journalism.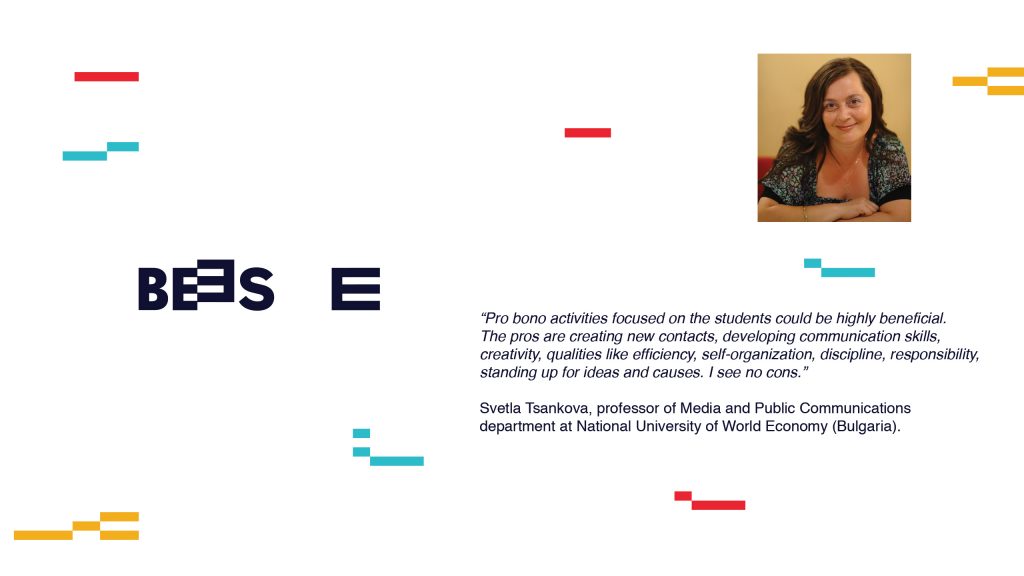 Denitsa Gorchalova: How do you perceive the idea of pro bono activities to become part of the curriculum at UNWE? What are the pros and cons?

Svetla Tsankova: I find the idea very interesting. In case that the pro bono activities are focused on the students' programme, they could be highly beneficial. The pros are creating new contacts, developing communication skills, creativity, qualities like efficiency, self-organization, discipline, responsibility, standing up for ideas and causes. I see no cons.

Denitsa Gorchalova: Can you apply pro bono at your courses? How would you do it?

Svetla Tsankova: It is possible for the more practically oriented courses. For example, during the "Press-journalism" course the students could work with nonprofits like "Media Democracy" foundation or the Association of the European Journalists to perform market studies on the periodical print media in Bulgaria. The masters in the "Public Relations" programme could organize the media coverage of nonprofit campaigns as part of studying the "Media Planning" course.

Denitsa Gorchalova: Would you make pro bono activities a part of the final grade of the students and why?

Svetla Tsankova: I would make the pro bono activities as an element of the final grade. In all my courses I find the development of practical and applicable skills highly important for the students.

Denitsa Gorchalova: What are the problematic areas you envision if pro bono would become a part of the teaching?

Svetla Tsankova: Firstly, not every course can use that form of teaching and training. Secondly, the criteria for grading the students' participation in pro bono should be very carefully considered and specified.